MFA in Media Arts
The MFA in Media Arts at UCLA is a rigorous program which presents unique challenges and opportunities for serious and ambitious students looking for a lifelong engagement with the rich and ever evolving field of Media Art.
The program is focused on preparing students in three primary ways. First, through the acquisition and development of technical and craft based skills in various related media. Second, by building a thorough theoretical foundation in media history and theory, and supporting each student's journey in developing their own unique discursive framework through writing, research, and interdisciplinary engagement with other departments at UCLA. Finally, by helping students hone a sophisticated and compelling body of work, through critiques, seminars, exhibitions and one on one mentorship.
Who We Are
The Department of Design Media Arts (DMA) at UCLA investigates and cultivates a comprehensive, multidisciplinary approach to media creation that fosters experimentation and innovative thinking.

Our internationally renowned

faculty

include Rebecca Allen, Steve Anderson, Jenna Caravello, Johanna Drucker, Erkki Huhtamo, Willem Henri Lucas, Peter Lunenfeld, Lauren McCarthy, Chandler McWilliams, Rebeca Méndez, Christian Moeller, Casey Reas, Ramesh Srinivasan, Jennifer Steinkamp, Eddo Stern, and Victoria Vesna. They have in common hybridity in their creative and intellectual works and pedagogy.
Experimentation and invention continues with our distinguished alumni, who make their mark around the world with their unique contributions to media arts. View the work of our
MFA students
— Is there a connection to your own work?

We host a diverse range of international artists, thinkers, and performers that share their practice through lectures, workshops, and studio visits with grad students. Upcoming and recent visitors include Juliana Huxtable, Andrea Polli, Lars Müller, Nathalie Lawhead, Astra Taylor, Gelare Khoshgozaran, Ronen Sharabani, Toshio Iwai, Helen Molesworth, Ian Cheng, Angela Washko, Yung Jake, Auriea Harvey, Pinar Yoldas, and Aram Bartholl.
Resources and Facilities
DMA's
resources and facilities
make our research, pedagogy, and creations possible. DMA operates state-of-the-art instructional and service labs in support of its curriculum including a fabrication lab for construction, a dedicated electronics lab for interactive and electronic installations, a digital audio lab, a print lab equipped with laser printers, inkjet printers and large-format plotters, a shoot room that facilitates photographic and video production, a mixed reality lab for motion capture and VR/AR development, our Media Arts Research Space (MARS) that provides access to hard to find audiovisual material and literature from the fields of media arts and design, thirteen faculty research labs, and several large studio spaces shared by graduate students.
Read more here.
Partnerships on campus provide additional resources, including the
Center for Digital Humanities
,
UCLA Arts Library
,
UCLA Center for the Art of Performance
, the
Fowler Museum
, and the
Hammer Museum
.
Labs and Research Groups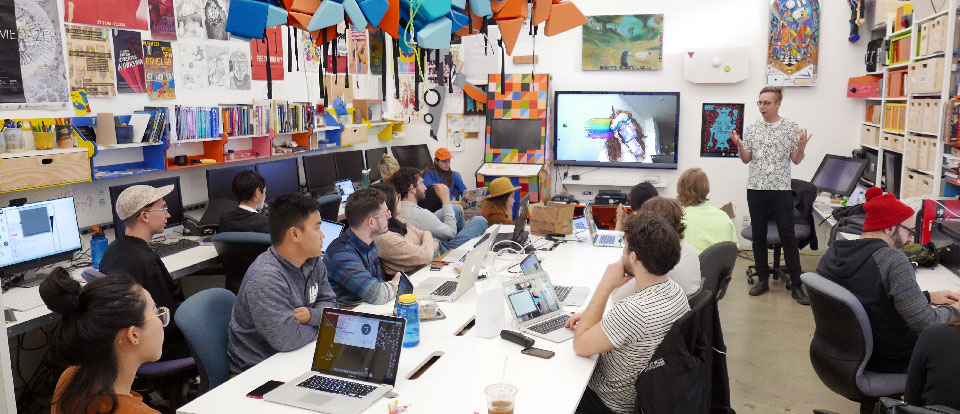 The
UCLA Game Lab
fosters the production of games and game-related research within an experimental art and design context. It values conceptual risk-taking and development of new tools, forms and modes of expression through games. The Game Lab supports interdisciplinary undergraduate, graduate and faculty creative research, and encourages projects that establish new paradigms for gaming and espouse an expressionistic and humanistic approach. The UCLA Game Lab is directed by Professor Eddo Stern and managed by Tyler Stefanich.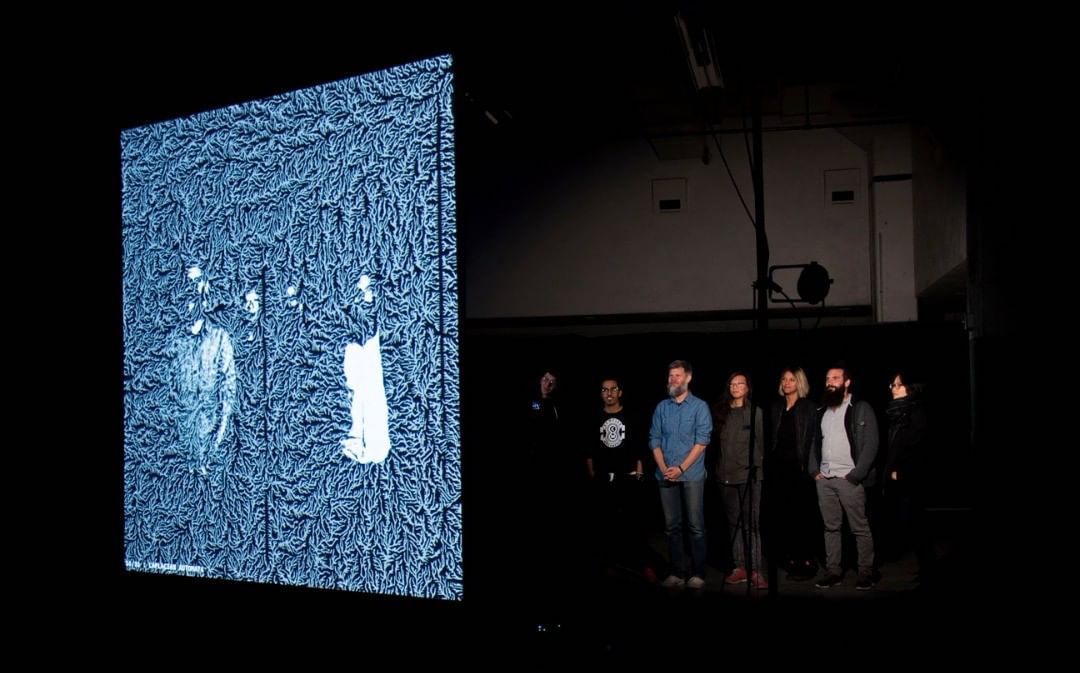 The
UCLA Arts Conditional Studio
is a group of individuals who develop software within the context of the arts. We create, distribute, perform, modify, and critique software. We trace our history from systems and conceptual art in the 1960s, to internet experimentation in the mid 1990s, to the recent rise of Apps. The Conditional Studio has three goals: Cultivate a discussion around software and the arts at UCLA and beyond; Fund and assist graduate students who work in this area; Provide infrastructure and knowledge around creating software. The UCLA Arts Conditional Studio is directed by Chandler McWilliams, with Professors Casey Reas and Lauren McCarthy.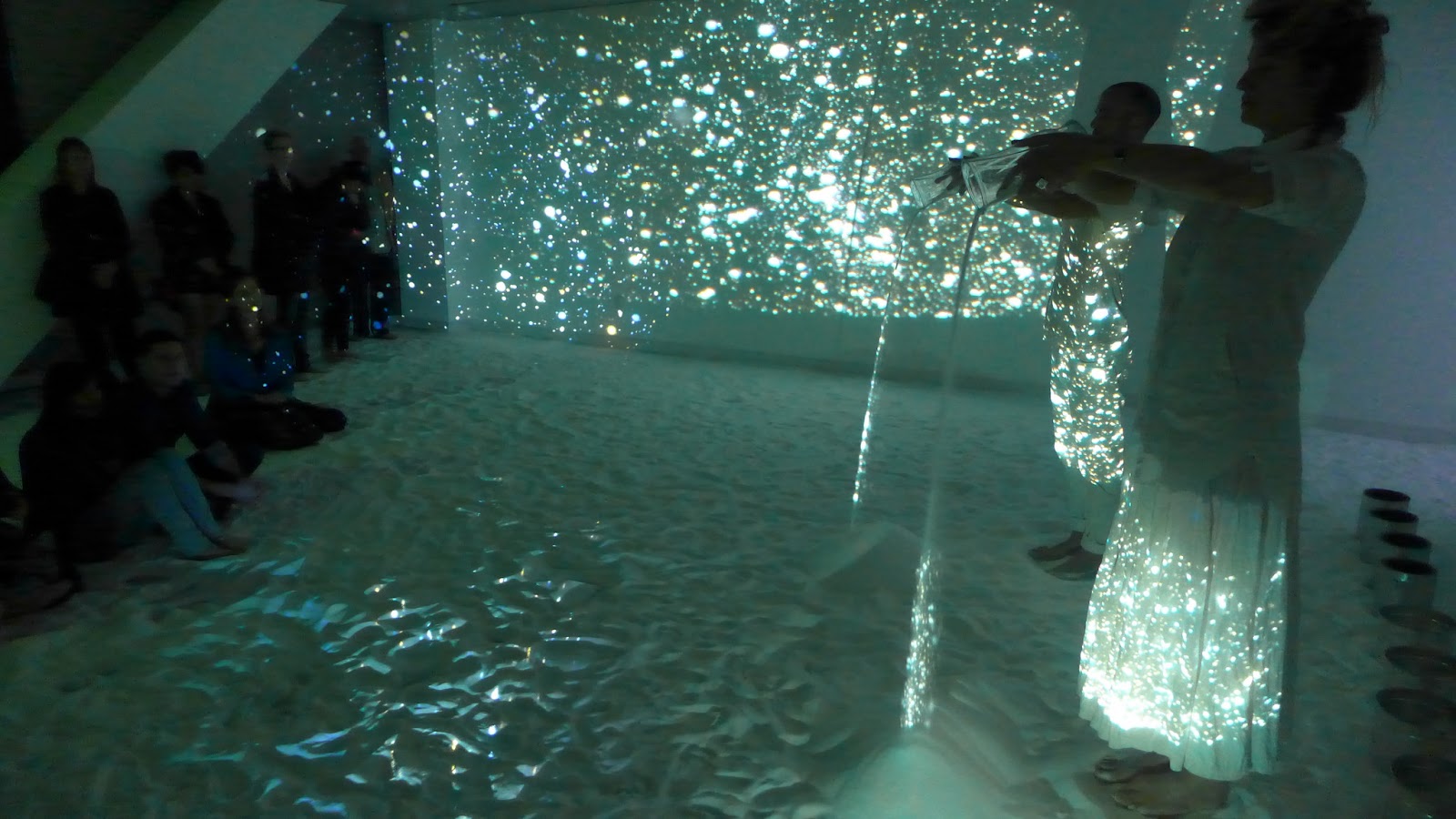 The
Art | Sci Center
is dedicated to facilitating the infinite potential of collaborations between contemporary artists and cutting edge scientists. The center was founded in 2005 in cooperation with California NanoSystems Institute (CNSI), the UCLA School of the Arts and Architecture, and the Department of Design Media Arts. Themes range from artificial intelligence to nanotech, to designing with genetics and biomaterials, with an eye to address social, medical, ethical and environmental issues. Students, faculty and the public benefit from the international community that the center is actively part of including University of Tokyo, University of Tsukuba, Academy of Applied Arts in Vienna, Ars Electronica in Linz and Leonardo ISAST. The Art | Sci Center is directed by Professor Victoria Vesna.
Counterforce Lab
is a research and fieldwork studio, dedicated to using art and design to develop creative collaborations, new fields of study, and methods to research, create, and execute projects that investigate and mitigate the social and ecological concerns of the anthropocene era, a time when human activity has been the dominant influence on climate and the environment. The Counterforce Lab is directed by Professor Rebeca Méndez.
---
MFA Schedule
First Year — required courses include Programming Media 1
(DESMA 252A)
, Programming Media 2
(DESMA 252B)
, Contemporary Media Arts
(DESMA 289)
, Graduate Seminar
(DESMA 269)
, Graduate Group Critique
(DESMA 403)
, and Graduate Tutorial
(DESMA 404)
. Sample course syllabi for
Programming Media 1
and
Programming Media 2
.
Second Year — students continue with Graduate Group Critique
(DESMA 403)
, Graduate Tutorial
(DESMA 404)
, and Graduate Seminar
(DESMA 269)
, which guide them through the MFA thesis process. Students are required to take 16 units of electives and are encouraged to select elective courses from other departments across UCLA. For a complete list and description of courses offered at UCLA, consult the UCLA General Catalog at
www.registrar.ucla.edu/catalog
.
Fall 2021

200
252A
289
403
289

404

DMA Faculty Seminar
Programming Media 1*
Graduate Group Critique
Graduate Seminar:
Contemporary Topics in Media Arts
Graduate Tutorial (2 courses)

Winter 2021

252B
269
403
404

Programming Media 2*
Graduate Seminar
Graduate Group Critique
Graduate Tutorial (2 courses)

Spring 2021

Graduate Group Critique
Graduate Tutorial (2 courses)
Elective of Choice or Directed Research

Fall 2021

Graduate Group Critique
Graduate Tutorial (2 courses)
Elective of Choice or Directed Research

Winter 2022

269

403

404

Elective(s)

...

Graduate Seminar
Graduate Group Critique
Graduate Tutorial (2 courses)
Elective of Choice or Directed Research

Spring 2022

Graduate Group Critique
Graduate Tutorial (2 courses)
Elective of Choice or Directed Research

*These classes can be waived in favor of other graduate-level electives.
Electives
Students are able to select from electives offered in the department and across the university. Recent electives offered in the department include: Anxious Aesthetics: Suveillance as Cultural Form, Exploits in Nonart, Game Theory, Design and Development, Compressed Cinema, Location Of Violence And Construction Of Time, Performing User, Wrecking the Coffee Table, Media Archaeology of Moving Image, Small Objects Of Desire, Experimental Narrative and Media Production, Foucault and Deleuze: Art and Representation, and Worldbuilding.
Some of the courses taken by previous students include: Theories of Architecture (Architecture / Urban Design), Interdisciplinary Studio (Art), Advanced Japanese Art (Art History), Korean American Experience (Asian American Studies), Structure, Patterns, and Polyhedra (Chemistry), Machine Perception (Computer Science), Artificial Life for Computer Graphics and Vision (Computer Science), Situation Comedy and American Culture (Communication Studies), Environmental Change (Environmental Studies), Videogame Theory (Film and TV), Issues in Biophysical Geography (Geography), Information and Power (Information Studies), Intimate Relationships (Psychology), Location-Based and Audience-Aware Storytelling (Theater), Myth and Ritual (World Arts and Cultures), and Ethnography of and as Colonialism (World Arts and Cultures).
View the full UCLA course catalog.
Graduate Student Fees*
University Fees
→
$17,567
Nonresident Supplemental Tuition
→
$15,102
Financial Support
Various merit- and eligibility-based financial support is available to entering and continuing graduate students at UCLA. Entering DMA graduate students are offered financial assistance at the time of admission based on the strength of their application; continuing students are usually informed of their second-year financial support before the beginning of their second-year of study. The most common form of financial support is through teaching assistantships, which typically include fee remissions and health insurance.
More information on financial support, including extramural awards, is available through the
UCLA Graduate Division
.